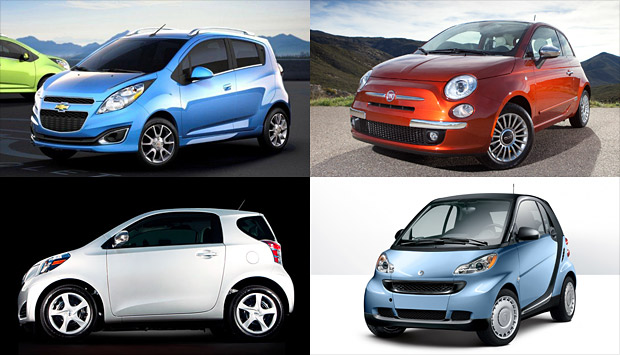 Here at Art Gamblin Motors, your Bonney Lake car dealer, we are very excited about Chevrolet's new mini car: The all-new 2013 Spark! The Spark dominates the mini car segment with more available features, outstanding value and solid performance. This fact is clear when comparing the Chevy Spark to the Fiat 500 POP:
The Fiat 500 is available as a 2-door hatchback or 2-door convertible. Unlike Spark, the 500 is not offered in a 5-door configuration. The 500 is available in three main trim levels (Pop, Sport and Lounge) with 3 additional special-edition models (Pink Ribbon, Gucci and the high- performance Abarth). All models share the same 101 hp 1.4L engine with the exception of the Abarth which adds a turbocharger to the 1.4L engine for additional power. Transmission choices for the Pop version–which competes against Spark–include a 5-speed manual or 6-speed automatic.
Chevrolet Spark Advantages vs. Fiat 500 POP
• 5-door body style. All Chevrolet Sparks are 4-door hatchbacks. All Fiat 500 hatchbacks are two door models. A 4-door hatchback body style is not currently available.
• Standard alloy wheels on all models. All Spark models have standard alloy wheels regardless of trim level. The Fiat 500 Pop model features steel wheels with wheel covers.
• Superior value. Not only is Chevrolet Spark 1LT priced over $1,705 less than Fiat 500 Pop ($14,495 vs. $16,200), it's also better equipped.
• Less-expensive fuel requirement. The Chevrolet Spark runs on regular unleaded gasoline. The Fiat 500's recommended fuel is premium unleaded–which currently is about 6% more expensive.
• Larger vehicle. Spark's interior has 10.7 cu. ft. more passenger volume than Fiat 500. In this class of vehicle, passenger volume is an important factor in determining comfort.
• Cargo volume. Spark's cargo area is over 16% larger than the Fiat 500 cargo area. A larger cargo area contributes to a vehicle's versatility.
• More front leg room. Spark has 1.3″ more front leg room than Fiat 500.
• Rear seat comfort. Spark has 3.5″ more rear seat leg room than Fiat 500.
• Greater front and rear hip room. Spark has more front hip room and a whopping 4.9″ more rear hip room (47.5″ vs. 42.6″) than Fiat 500.
• Standard OnStar. Spark's standard OnStar telematics system provides a suite of services including Automatic Crash Response, Turn-by-Turn Navigation, Vehicle Diagnostics and much more. A telematics system is not available on Fiat 500.
• MyLink Radio. Fiat 500 has nothing comparable to Spark's MyLink Radio with its embedded apps. In fact, the Fiat 500 radio does not include a touch-screen–even on its highest-level models.
• Standard satellite radio. Satellite radio, with three months of service included, is standard on Spark 1LT.
Satellite radio is an available accessory on Fiat 500.
• Bluetooth for phone and audio. Spark 1LT features
Bluetooth for both phone and audio. Fiat 500 has what
it calls Blue & Me which provides a wireless phone
interface, but not one for audio.
• Superior warranty peace of mind. The Fiat 500
4-year/50,000-mile powertrain warranty can't
compete with the Spark's 5-year/100,000-mile
powertrain warranty. That's a full 50,000 additional
miles of coverage!
• Emergency roadside assistance. Spark owners
receive the peace of mind of emergency roadside
assistance for five years. Fiat 500 buyers receive only
four years of roadside assistance.
• More air bags. All Spark models have 10 standard air
bags. Fiat 500 has seven air bags.
• Oil Life Monitor. This feature is not offered on Fiat 500.
We invite you to come test drive a new 2013 Chevrolet Spark here with us at Art Gamblin Motors in Enumclaw Washington; and experience something unexpected. We promise that you will enjoy our welcoming pressure-free environment, with plenty of expert sales associates available to handle all of your needs. Above all we are committed to treating you like family, something that is natural for us being family owned and operated for over 43 years. Come see the difference for yourself and see why we are the highest online rated Chevrolet dealer in the state!