Art Gamblin Motors is an award winning General Motors dealership located in Enumclaw, Washington at the base of Mt. Rainier. Enumclaw is a  farming community east of Seattle and Tacoma. Gamblin Motors is proud to have served Enumclaw and the surrounding area's needs for 40+ years.
Gamblin Motors sells the Chevrolet, Buick and specializes in trucks and used vehicles. Because of community ties to farming and logging, we know trucks and have thousands of satisfied customers. From farm trucks to custom pickups personalized for the owner, we know how to equip vehicles just the way our customers like them.
The internet is a big source of sales for Art Gamblin Motors. We have sold over 3,000 satisfied used vehicle customers all over the globe. Our philosophy is to sell volume with great prices and a hassle free experience. We do this by stocking over 150 used cars and trucks, making sure they are quality vehicles and pricing them lower than the big city dealerships with high overhead.
History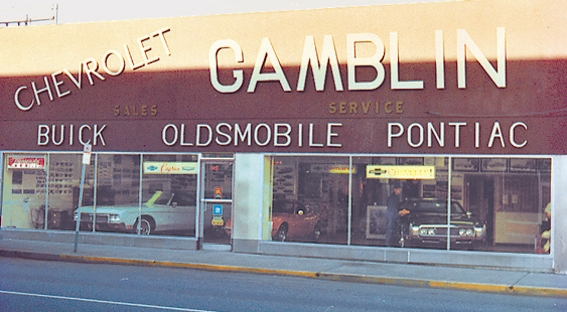 In 1969 Art Gamblin sold his Chrysler-Plymouth dealership in southern Idaho and purchased the General Motors dealer in Enumclaw. Art had previously been a GM dealer and wanted to return to selling products he felt were superior. In 1969 the dealership sold new Chevrolets, Buicks, Pontiacs, Oldsmobiles and Opels.
Art's son, Alan Gamblin, was 13 years old in 1969. He worked washing cars and sweeping floors. Since then, he has worked in every aspect of the dealership. Alan became a partner in 1985 and then purchased the dealership in 1992. Retaining the original name, he continued to build upon a legacy of customer service and treating people fairly.
In retirement Art Gamblin continued his involvement within the local community, particularly with the Chamber of Commerce and fund raising activities for civic causes. He passed away in the spring of 2002. Following in Art's steps, Alan Gamblin is involved as the President of the Enumclaw Community Hospital Foundation Board of Directors, active in his church and was named the Rotarian of the year by the Enumclaw Rotary club. He is President of the Northwest Chevrolet Dealers advertising association and sits on a national Chevrolet advertising committee.
Art Gamblin Motors currently employs over 60 people who work in two 'state of the art' facilities.  Many of  Gamblin Motors employees have lived in Enumclaw and the surrounding area for most of their lives.  Taking care of our customers and treating them like family is the goal at Gamblin's.  Gamblin Motors employees honor the company's mission statement of, 'Surpassing their customer's automotive needs by ensuring their unconditional satisfaction and exceeding expectations.' They do this by daring to "walk the talk" and by making a difference for themselves and Gamblin Motors customers.
We hope you enjoy thegamblinman blog as we strive to provide information that will help you and your vehicle needs.